This is the story of kulturland and a homage to Lorenz Kunz. Thanks to him kulturland existed and exists.
In the years 1994 to 2016 Lorenz Kunz, the organic farmer and I, the musician, lived and worked together on the organic farm in Diemtigen and on the Ramsen – Toobefärrich Alp. During this time we built up a considerable direct marketing of different types of cheese and supplied customers with meat from liveable and careful animal husbandry. Legendary were our Formaggini, which we were the first to make famous here in the valley. They soon achieved cult status. The milk from horned cows was prepared over an open fire to make tasty alpine cheese, Mutschli and Raclette. We lived on the alp without electricity in the summer and, despite the hard physical work with nature and the animals, we enjoyed the freedom beyond comfort, digital constraints and civilising stress.
Unforgettable are the political activities of Lorenz, his untiring commitment to liveable animal husbandry and careful treatment of nature, his legendary directness, his subtle communication with the animals and nature. He is a great soul and kulturland will always remain connected to this soul.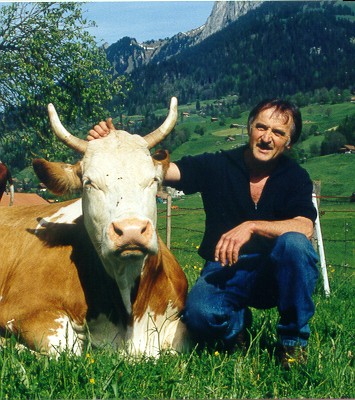 Lorenz Kunz, organic farmer politician, cosmopolitan, animal communicator
1950 -2016
Since the death of Lorenz, I have been working here on the farm in a changed form. The spirit of my partner inspires me daily and still agriculture, the careful treatment of nature and animals is an important topic for me.
I maintain and cultivate my garden and the surroundings according to organic and partly biodynamic principles. The valley farm is leased to Ueli and Christine Erb, organic farmers and direct marketers, Diemtigen. The animals summer on the alp Gestelen in the Diemtigtal. They are all horned, of course. Alp Ramsen – Toobefärrich has been owned by the Rubin family, organic farmers from Aeschi, since 2018.